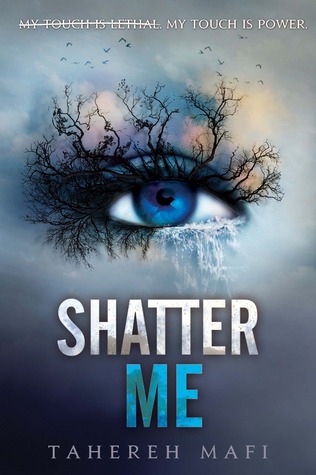 Title: Shatter Me
Author: Tahereh Mafi
Published: 2011
Genre: Romantic Dystopian
Length: 338 pages
Rating: ★★☆☆☆

Juliette hasn't touched anyone in exactly 264 days.

The last time she did, it was an accident, but The Reestablishment locked her up for murder. No one knows why Juliette's touch is fatal. As long as she doesn't hurt anyone else, no one really cares. The world is too busy crumbling to pieces to pay attention to a 17-year-old girl. Diseases are destroying the population, food is hard to find, birds don't fly anymore, and the clouds are the wrong color.

The Reestablishment said their way was the only way to fix things, so they threw Juliette in a cell. Now so many people are dead that the survivors are whispering war – and The Reestablishment has changed its mind. Maybe Juliette is more than a tortured soul stuffed into a poisonous body. Maybe she's exactly what they need right now.

Juliette has to make a choice: Be a weapon. Or be a warrior.
---
Edited (6/4/16): now that I've really sat on it for a few years now, I'm lowering this to a 2 star rating – I think, at the time of my reviewing this book, I felt too compelled to give this book a higher rating because of the hype surrounding it. Now that I've gotten better at separating my actual feelings about a book from the feelings that everyone seems to want me to have about a book, I've decided that this book gets more of a 2 star rating.
Shatter Me was one of those books that I went into having unrealistically high expectations, due to the large amount of hype- some of which came from my most trusted BookTubers and reviewers. I really regret how high of expectations I had for the book- not exactly because it didn't meet them, or that it was a disappointment, but because it was really unfair to the book. I found myself not exactly giving it much breathing room for errors because I was expecting it to sweep me off my feet. 
Did it do so?
Packaging: 5/5 Stars. I really, really wanted this book in hardcover because it's just so beautiful. But I had to be practical (for once) and buy it in paperback so that I'd have enough for another paperback instead of just one hardback. Even so, the cover is absolutely gorgeous. I love it; it's possibly one of my all time favorite covers. If you've seen Shatter Me's original cover, you would know that it wasn't very pleasing to the eye. However, it definitely redeemed itself with its new design. 
Writing Style: 3/5 Stars. Don't get me wrong, Tahereh Mafi's writing style isn't bad- she's definitely a very talented writer, and can conjure beautiful metaphors. However, there are times throughout the book that the metaphors get to be a bit annoying, as well as the constant strikethroughs, especially in the first half of the book. I also really disliked the frequent uses of "I gasped" "I blushed (with a variety of descriptions)" and "My jaw dropped (or something similar)". But during the second half of the book, Tahereh Mafi definitely tones it down with her writing, and doesn't use her frequent strikethroughs nearly as often, as well as her metaphors.

Characters: 3/5 Stars. I wouldn't go as far to say that I disliked the characters, because I didn't. I just found that it was all rather.. cliche, at times. But before I get to that, I'll address our main protagonist, Juliette. I found myself getting annoyed with Juliette throughout the book, however, it was completely understandable. If the author had made her completely badass and independent, it would maybe be more convenient, but it would be completely unrealistic. Juliette has been deprived of comfort, love, touch, and affection her entire life. Of course she's going to be lonely and even a bit "needy". Of course this won't make her some iron force. I reminded myself of this throughout the book, and in the end, it wasn't so bad. Unfortunately, I failed to understand her appeal. I failed to understand why she had practically every guy she encountered falling over themselves for her. I understand that she's beautiful- that's totally fine. But the entire situation was almost too cliche to be believable. I also feel that the author tried to hard to make her come off as badass at times. Unfortunately, in the occasions that she did, it really wasn't working and left me feeling like rolling my eyes. Then we have Adam. Although most people that I have encountered are Team Warner, at this point I can't even fathom why. Maybe it's because I have yet to read the next book, but for now, I'm definitely rooting for Adam. He's consistent, sweet, and extremely likable as a character. As for Warner. He was definitely my favorite character to read about. He was, although very demented, very interesting, and I'm really looking forward to learning more about him. The other side characters, though there wasn't many, were solid as well, at least from what we saw of them.
Plot: 3/5 Stars. Honestly, I was expecting more dystopian with a splash of romance. This book is more like romance with a splash of dystopian. If you're into that, then you should definitely enjoy this, but personally, I was looking forward to more when it comes to Juliette's powers. If you don't really like romance, then I would highly recommend that you read through reviews before deciding whether or not you want to pick this up. The first half of this book was really slow, and it was honestly not very pleasant. However, it definitely picked up for the second half. From then on, everything was extremely fast paced, which I thoroughly enjoyed. We got to see conflict, action, and situations that made me race to turn the pages.
Overall: 3/5 Stars. Shatter Me by Tahereh Mafi merits a 3 star review. If the entire book had been more similar to the second half, I'd probably be able to give this book a higher rating. However, it's the book's lagging first half, as well as some problematic characterization, that holds it back. Shatter Me is a romantic dystopian that has an incredibly intriguing premise, as well as a certain air about it that leaves you desperately wanting to find out what happens next. Readers will be hopefully scanning the pages as we all wait for our protagonist to come to a conclusion that will tip the scales- her touch is power.