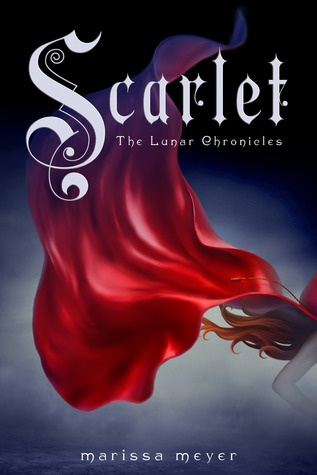 Title: Scarlet
Author: Marissa Meyer
Published: 2013
Genre: Fantasy/Young Adult
Length: 452 pages
Rating: ★★★★☆

Cinder, the cyborg mechanic, returns in the second thrilling installment of the bestselling Lunar Chronicles. She's trying to break out of prison–even though if she succeeds, she'll be the Commonwealth's most wanted fugitive. Halfway around the world, Scarlet Benoit's grandmother is missing. It turns out there are many things Scarlet doesn't know about her grandmother or the grave danger she has lived in her whole life. When Scarlet encounters Wolf, a street fighter who may have information as to her grandmother's whereabouts, she is loath to trust this stranger, but is inexplicably drawn to him, and he to her. As Scarlet and Wolf unravel one mystery, they encounter another when they meet Cinder. Now, all of them must stay one step ahead of the vicious Lunar Queen Levana, who will do anything for the handsome Prince Kai to become her husband, her king, her prisoner.
---
During the (less than) 24 hour period that I had to wait to get my hands on Scarlet, I was so agitated. I was literally itching to read Scarlet, to find out what happens next, and to meet the newly introduced character, Scarlet. The second I had Scarlet in my hands, I didn't put it down until I had finished it, and now, I'm yearning for Cress with the same (if not stronger) intensity that in which I yearned for Scarlet.
Packaging: 5/5 Stars. Just like Cinder, the cover of Scarlet is absolutely gorgeous, and the typography is striking. The red cape that dominates most of the cover is so beautiful, and I'm just absolutely obsessed with it.
Writing Style: 4/5 Stars. Marissa Meyer impresses yet again with her unique voice. She weaves complex storylines practically seamlessly, and her delivery of the chaos and complexity that ensues in this book is absolutely brilliant. Her execution of what would be complicated concepts are easy and intriguing, and she intertwines the fates of her characters through her words. 
Characters: 4.5/5 Stars. I adored the new characters that were introduced in Scarlet, as well as the old. My affection for Cinder only grew through this sequel, and I almost immediately fell in love with Scarlet, Wolf and Captain Thorne. I really appreciate how, although Cinder is faced with increasingly growing burdens and obligations, Marissa Meyer remains true to her voice and personality, and never lets us forget how her past sways her decisions in the present. 
Plot: 4/5 Stars. The introduction of a second storyline that weaves into the first was executed very well, and readers almost immediately took a taking and interest in not only the second plot, but the newly introduced characters. Plots grew increasingly complex, and although there was a good use of foreshadowing, it was not done so in a way that it would take away from the reading experience. 
Overall: 4/5 Stars. I really, really liked Scarlet. I didn't have any major issues with the book, and although there is something missing that doesn't allow me to give it 5 stars, it remains one of my favorite books and is ultimately well written, with strong characters and an intriguing plot.