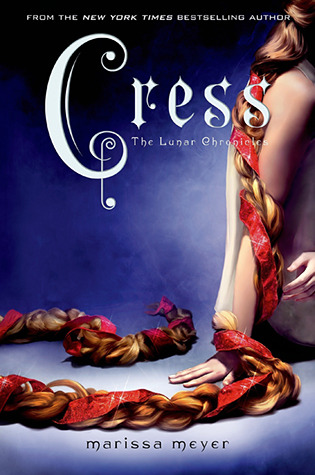 Title: Cress
Author: Marissa Meyer
Published: 2014
Genre: Fantasy/Young Adult
Length: 550 pages
Rating: ★★★★½☆

In this third book in the Lunar Chronicles, Cinder and Captain Thorne are fugitives on the run, now with Scarlet and Wolf in tow. Together, they're plotting to overthrow Queen Levana and her army. 

Their best hope lies with Cress, a girl imprisoned on a satellite since childhood who's only ever had her netscreens as company. All that screen time has made Cress an excellent hacker. Unfortunately, she's just received orders from Levana to track down Cinder and her handsome accomplice. 

When a daring rescue of Cress goes awry, the group is separated. Cress finally has her freedom, but it comes at a high price. Meanwhile, Queen Levana will let nothing prevent her marriage to Emperor Kai. Cress, Scarlet, and Cinder may not have signed up to save the world, but they may be the only hope the world has.
---
Before jumping into the review, all I'm going to say is that this book has left me practically going insane until Winter, the next book in the installment, comes out. 
Packaging: 5/5 Stars. I purchased Cress in hardcover, due to a paperback version not being released yet, and its left me wishing that I had purchased Cinder and Scarlet in hardcover as well. The art is beautiful, and I love the purple backdrop of it all. 
Writing Style: 4.5/5 Stars. Marissa Meyer has not yet let me down. Her voice is clear and beautiful tells the story of the characters, and she manages to shift voices as she shifts perspectives beautifully. As a reader, I really felt as if I was reading with the separate voices of different characters, instead of all the voices blending together and sounding the same. 
Characters: 4/5 Stars. My love for the past characters, Cinder, Scarlet, Captain Thorne, only grew with this book. However, concerning Cress, a newly introduced character, I am still working out how I felt about her. There were times when she irritated me beyond belief, however, I definitely understood her, and she developed more as the story progressed- making me think that I like her after all. Also, there were times when Kai annoyed me as well. Then again, as the newly crowned Emperor of a country that is facing war with a powerful planet as well as criticism from neighboring nations, I think we can forgive him for this. I was really intrigued by Snow White, the newly introduced character, and can't wait to see more of her in Winter. 
Plot: 4/5 Stars. I absolutely loved the plot of Cress- it was complex but perfectly so, fast paced, interesting, shocking, heartwarming and heartbreaking- everything that a good book should be (although the heartbreaking factor is left to your own tastes). 
Overall: 4.5/5 Stars. Cress is my favorite book of the Lunar Chronicles so far, and the developments that took place leave me counting down the days (literally) until Winter is released.