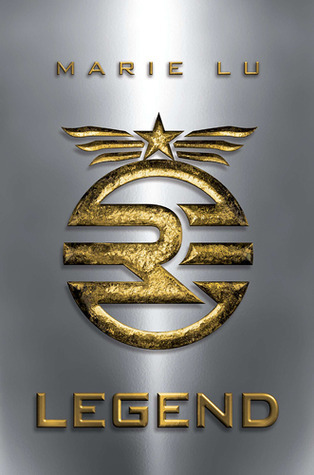 Title: Legend
Author: Marie Lu
Published: 2011
Genre: Dystopian
Length: 305
Rating: ★★★★½☆

What was once the western United States is now home to the Republic, a nation perpetually at war with its neighbors. Born into an elite family in one of the Republic's wealthiest districts, fifteen-year-old June is a prodigy being groomed for success in the Republic's highest military circles. Born into the slums, fifteen-year-old Day is the country's most wanted criminal. But his motives may not be as malicious as they seem.

From very different worlds, June and Day have no reason to cross paths – until the day June's brother, Metias, is murdered and Day becomes the prime suspect. Caught in the ultimate game of cat and mouse, Day is in a race for his family's survival, while June seeks to avenge Metias's death. But in a shocking turn of events, the two uncover the truth of what has really brought them together, and the sinister lengths their country will go to keep its secrets.
---
Legend is easily one of the most hyped books out there, so naturally, I was intrigued. The boxed trilogy had been sitting on my Amazon Wishlist for months before my aunt bought it for me for my birthday. A week after I received it, I binged read all three books in less than a day (I read Legend and Prodigy at night and woke up early the next morning to finish Prodigy), and I was definitely not disappointed. 
Packaging: 5/5 Stars. I really love the packaging of this book. Not only is the sleeve absolutely gorgeous, but the gold lettering of the actual book on the spine is just beautiful. 
Writing Style: 4/5 Stars. Marie Lu is definitely a very talented writer. She painted the world of Legend beautifully, and through her words was able to make us understand her characters as well as their motivations. 
Characters: 4/5 Stars. I really adored the characters of this book. June is probably one of my all time favorite protagonists- she's smart, resourceful, pragmatic, and logical, but still very human. She's still vulnerable and can act rashly due to emotion, and she's strong without it being unrealistic. She can break down and mess up, but she can still recover and get back up, and that's what makes her strong. Day was another character that I loved, and something I loved about him was how different he was from June. Although both of there are clever and resourceful, where June is pragmatic and logical, Day tends to act more on emotion. He loves his family more than anything and would do anything for them- he listens to his heart rather than his head. Day and June were so different in so many ways, but they worked so well together. Both these characters and their points of views were so well written. 
Plot: 5/5 Stars. I loved the plot of this book. I really love books that have strong underlying military themes, and Legend's government was definitely military based. I found the workings of Legend fascinating, and I really loved the parallels that it held. Although Legend is a dystopian, its government can be seen as a parallel of a certain country that exists in our present day. 
Overall: 4.5/5 Stars. Legend was definitely an amazing read, and it's one of my new all time favorite books. The strong and intriguing plotline, vibrant characters, and compelling writing style are enough to determine that the hype for this book is definitely worth it.