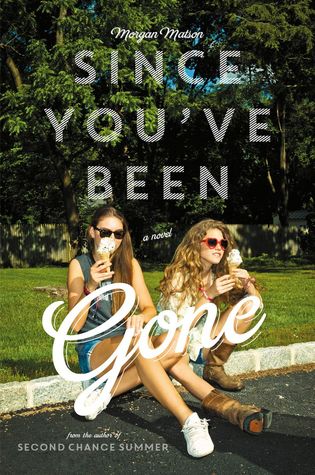 Title: Since You've Been Gone
Author: Morgan Matson
Published: 2014
Genre: Contemporary
Length: 449 pages
Rating: ★★★★½☆

The Pre-Sloane Emily didn't go to parties, she barely talked to guys, she didn't do anything crazy. Enter Sloane, social tornado and the best kind of best friend—the one who yanks you out of your shell.

But right before what should have been an epic summer, Sloane just… disappears. No note. No calls. No texts. No Sloane. There's just a random to-do list. On it, thirteen Sloane-selected-definitely-bizarre-tasks that Emily would never try… unless they could lead back to her best friend.

Apple Picking at Night? Okay, easy enough.

Dance until Dawn? Sure. Why not?

Kiss a Stranger? Wait… what?

Getting through Sloane's list would mean a lot of firsts. But Emily has this whole unexpected summer ahead of her, and the help of Frank Porter (totally unexpected) to check things off. Who knows what she'll find?

Go Skinny Dipping? Um…
---
I'm not even going to wait before I get into this review to share my thoughts on this book: I absolutely adore it. It's, hands down, my absolute favorite contemporary. I know that the description might sound a little cheesy, but there was something about it that initially intrigued me. I figured that it would be a cute, quick contemporary and read it in eBook format, but it turned out to be much more than what I expected. 
Packaging: 5/5 Stars. The cover is one of my absolute favorites- it's so pretty and practically has contemporary plastered all over it. It's adorable and inviting, which is exactly what the packaging of a book should aspire to be. I can't comment on the quality of the sleeve/physical copy since I don't own a physical copy of the book. 
(edit 1/22/15: I actually received a physical copy of this book for Christmas, and it is absolutely adorable. The inside of the sleeve was actually a surprise- it's a large image of the two girls that represent Emily and Sloane. I love the physical copy so much.)
Writing Style: 5/5 Stars. Morgan Matson is incredibly talented. Her writing style is conversational and just draws you in, making this book feel like an old friend. Emily's emotions are so easily and acutely conveyed to the reader that it's practically effortless to empathize with her. 
Characters: 5/5 Stars. The characters of this book were all so vibrant that they stopped seeming fictionalized- they were so alive. From Emily, to Sloane, to Frank, Dawn, Collins, even Gideon and her little brother, the presence of these characters are impossible to ignore. 
Plot: 4.5/5 Stars. I loved how, although the book was written in the present tense, Morgan Matson included pieces of the past, making it so that the reader could better understand the history between the characters and the significance of some events. I loved how, through Sloane's disappearance and Emily's yearning to find her again, Emily ended up finding herself. I know it sounds cheesy, but it's true. She was forced to travel outside her comfort zone and do things that she never would have originally done without Sloane, and in doing so, she made new friends, made memories, and really learned about herself. 
Overall: 4.5/5 Stars. I really, really adore this book. Emily and Sloane's friendship ended up touching me, and I found myself hurting for them both as the book went on. Through Sloane, Emily found herself, but Emily wasn't the only one of the duo to learn a lot. The packaging is stunning, the writing style is engaging and beautiful, the characters are vibrant, and the plot was beautifully developed with exceptionally minor flaws. I can't even begin to express how much I recommend this book.