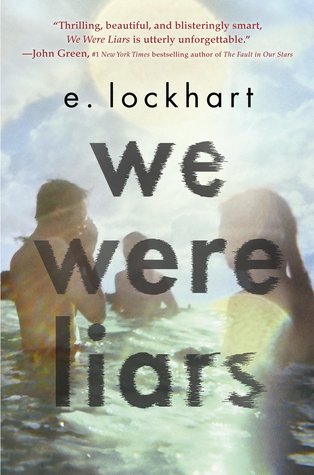 Title: We Were Liars
Author: E. Lockhart
Published: 2014
Genre: Young Adult
Length: 227 pages
Rating: ★★★☆☆

A beautiful and distinguished family.
A private island.
A brilliant, damaged girl; a passionate, political boy.
A group of four friends—the Liars—whose friendship turns destructive.
A revolution. An accident. A secret.
Lies upon lies.
True love.
The truth.
To say that this book received a lot of buzz would be quite the understatement- it absolutely blew up in the BookTube community (a community of book lovers on YouTube) to the point where practically everyone has heard of it. It received a 2014 Goodreads Choice Award and starred reviews, including one from well known author John Green. We Were Liars, to put it lightly, had a lot riding on its shoulders when it came to living up to my expectations. 
Packaging: 4/5 Stars. A shaky 4 stars. Although the cover definitely screams contemporary, it's just not one of my favorites. I can't comment on the quality of the sleeve/book itself due to the fact that I read this book in eBook format.
Writing Style: 3.5/5 Stars. I found that E. Lockhart's writing style greatly reminded me of that of Tahereh Mafi- although her writing style is lyrical and alluring, I found that it could be a bit over the top and wearisome, along with all the metaphors. The writing style often reminded me of the feeling you get when you're in a car and it's moving really quickly and everything outside the window fades into a blur- it was blurry and even confusing at times, although that's probably how everything felt to the protagonist of the story. 
Characters: 3/5 Stars. I found that the characters just didn't stick to me. None of them did, not even the main character: Cadence. None of the Liars felt tangible or real to me, and they lacked the certain vibrancy that brings a fictional character to life. The original Sinclair daughters of this story, as well as the Grandad, were flat out unlikable- which was the author's point. They were self absorbed and petty, as well as shallow and cruel. 
Plot: 4/5 Stars. The plot was definitely my favorite part of this book. The mystery surrounding Cadence's accident had me intrigued, as well as constantly guessing what could have happened. The truth, which turned out to be one of the biggest plot twists that I've ever had pulled on me, wasn't what I had expected at all. Although looking back, I can definitely see the foreshadowing, I was so completely shocked at the time I read it. 
Overall: 3/5 Stars. A shaky 3 stars. I, personally, couldn't get into this book as well as so many seem to have had. It lacked strong characters, and the writing style grew tiresome as the book continued on. However, the strong plot, as well as the shocking twist the story takes, merits this book 3 stars.