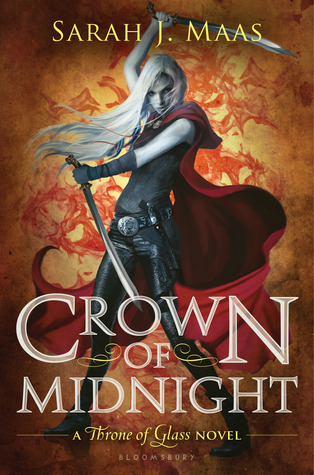 Title: Crown of Midnight
Author: Sarah J. Maas
Published: 2013
Genre: Fantasy/Young Adult
Length: 418 pages
Rating: ★★★★★

"A line that should never be crossed is about to be breached.

It puts this entire castle in jeopardy—and the life of your friend."

From the throne of glass rules a king with a fist of iron and a soul as black as pitch. Assassin Celaena Sardothien won a brutal contest to become his Champion. Yet Celaena is far from loyal to the crown. She hides her secret vigilantly; she knows that the man she serves is bent on evil.

Keeping up the deadly charade becomes increasingly difficult when Celaena realizes she is not the only one seeking justice. As she tries to untangle the mysteries buried deep within the glass castle, her closest relationships suffer. It seems no one is above questioning her allegiances—not the Crown Prince Dorian; not Chaol, the Captain of the Guard; not even her best friend, Nehemia, a foreign princess with a rebel heart.

Then one terrible night, the secrets they have all been keeping lead to an unspeakable tragedy. As Celaena's world shatters, she will be forced to give up the very thing most precious to her and decide once and for all where her true loyalties lie…and whom she is ultimately willing to fight for.
---
I don't understand how in the world Sarah J. Maas can go from Throne of Glass to this national treasure. Not that Throne of Glass was bad, because it wasn't- it was good, and an enjoyable read. But Crown of Midnight absolutely blew me away, to the point where the Throne of Glass series is my new favorite fantasy series (with the exception of Harry Potter). 
Packaging: 5/5 Stars. The cover for this book practically has the words 'Fantasy' stamped on it- it's a beautiful fantasy cover, and I definitely love it much more than the cover for Throne of Glass. 
Writing Style: 5/5 Stars. In Throne of Glass, although Sarah J. Maas's writing style was great, I knew that there was potential for her to becoming absolutely amazing- and she did. The writing style for Crown of Midnight is captivating and enticing; it's fast paced but perfectly and thoroughly explained, and it's everything that I had hoped for and more.
Characters: 5/5 Stars. As I mentioned in my review of Throne of Glass, I love the characters that Maas has created. However, in Throne of Glass, I had felt as if there was a barrier between me and Celaena that kept me from establishing a reader-character relationship. That barrier was knocked down in this book. Celaena kept true to the character that was built upon in Throne of Glass, but we got to see and understand so much more of her in Crown of Midnight. Her characterization was beautifully done. We get to see more of Chaol in this book as well; I came to love him even more in Crown of Midnight. Although he definitely makes questionable (stupid) decisions, those decisions are made in the face of one of his largest flaws- unquestioning loyalty. 
Plot: 5/5 Stars. This plot was flawless. One of my complaints for Throne of Glass was that there was a lack of action and a lack of world building- it's almost as if Maas read my review personally and took it to heart because there is definitely no shortage of action in Crown of Midnight. The world building in this book was so fantastically done, it's everything that I dreamed for. I actually felt as if I was submerged in a fantasy world, and I loved every moment of this book. 
Overall: 5/5 Stars. Full five stars. Crown of Midnight was exactly what the Throne of Glass series needed, and it set up the perfect precedent for the events that are to unfold in Heir of Fire in order for this series' development to be taken to the next level.