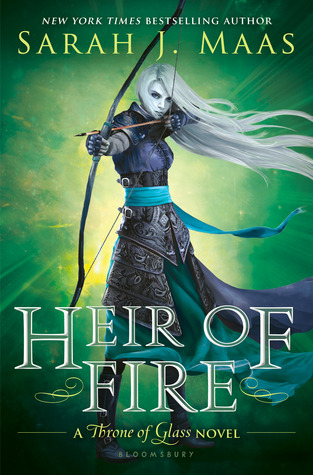 Title: Heir of Fire
Author: Sarah J. Maas
Published: 2014
Genre: Fantasy/Young Adult
Length: 562 pages
Rating: ★★★★★

Lost and broken, Celaena Sardothien's only thought is to avenge the savage death of her dearest friend: as the King of Adarlan's Assassin, she is bound to serve this tyrant, but he will pay for what he did. Any hope Celaena has of destroying the king lies in answers to be found in Wendlyn. Sacrificing his future, Chaol, the Captain of the King's Guard, has sent Celaena there to protect her, but her darkest demons lay in that same place. If she can overcome them, she will be Adarlan's biggest threat – and his own toughest enemy.

While Celaena learns of her true destiny, and the eyes of Erilea are on Wendlyn, a brutal and beastly force is preparing to take to the skies. Will Celaena find the strength not only to win her own battles, but to fight a war that could pit her loyalties to her own people against those she has grown to love?
---
I was so eager to read this book that I literally downloaded it the moment I finished Crown of Midnight. I had such high hopes for this book, considering Sarah J. Maas's drastic improvements since publishing Throne of Glass. I was not at all disappointed. 
Packaging: 4.5/5 Stars. Although I don't love this cover as much as I love the one for Crown of Midnight, Heir of Fire's cover is still absolutely gorgeous. I don't own a physical copy of the book, so I can't comment on the quality of the sleeve/packaging. 
Writing Style: 5/5 Stars. The pace of this book is slower than that of Crown of Midnight's, but that is in no way a bad thing. If anything, it helped plotlines to be more clearly executed, and we were really able to watch character and plot growth take place. 
Characters: 5/5 Stars. Celaena undergoes such incredible character development in Heir of Fire- she finally is able to truly confront herself and begin to heal (with the help of Rowan's brutal training). I came to love Celaena even more in this book, and I feel as if she has finally truly found herself- she's stopped running away from her fears and not only faced them, but accepted them. She's become a true queen. Speaking of Rowan, he's one of my new favorite characters. Rowan is a Fae Prince who has been ordered to oversee her training. He initially appears to be a complete and utter jackass, but Celaena isn't the only one who lets down her defenses. Rowan slowly reveals who he really is to Celaena, and that is the Rowan that has become my new favorite character. I feel that, with everything that had been going on in Celaena's life, she really needed a friend. She needed someone who could lend her strength, and someone that would force herself to confront her 'inner demons'- that person ended up being Rowan. Celaena and Rowan have such a deep bond and connection that I can't even begin to explain it. However, I don't ship them together because 1) Celaena in no way needed a love interest in Heir of Fire. What she needed was to come to love herself again, which she did 2) I adore their platonic love so much, and I feel as if we don't see enough boy/girl platonic relationships with as deep of a connection as theirs. We were also introduced to a new POV in this book- Manon, a witch of the Blackbeak clan. Through Manon's perspective, we get to see what it is that the king is up to and learn more about the witch clans. Chaol and Dorian both undergo a lot of development as well- Chaol struggles with his loyalty to his friends and Caelena and his (previously) unquestioning loyalty to the king. Dorian has trouble accepting that has magic, and he goes through so much that I can't even talk about without wanting to cry.
Plot: 5/5 Stars. Heir of Fire follows several different POVS- Celaena is learning to use her magic with Rowan and undergoing a lot of person vs. self conflict, Manon gives us a glimpse at the lives of the Ironteeth witches, as well as the training that they are undergoing, Dorian shows us his own inner turmoil and struggles as he, too, confronts himself, and Chaol also undergoes a lot of person vs. self conflict. The plot of this book was so complex and rich; it's exactly what this series needed.
Overall: 4.8/5 Stars. Almost 5 stars. Heir of Fire ends on an unbearable cliffhanger that has me practically tearing my hair out. I'm literally counting down the days until the next installment of this series is released. 
"She was the heir of ash and fire, and she would bow to no one."
"She was Aelin Ashryver Galathynius—­and she would not be afraid."