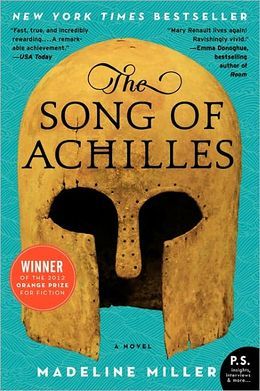 Title: The Song of Achilles
Author: Madeline Miller
Published: 2011
Genre: Historical Fiction
Length: 384 pages
Rating: ★★★★★

Achilles, "the best of all the Greeks," son of the cruel sea goddess Thetis and the legendary king Peleus, is strong, swift, and beautiful— irresistible to all who meet him. Patroclus is an awkward young prince, exiled from his homeland after an act of shocking violence. Brought together by chance, they forge an inseparable bond, despite risking the gods' wrath.

They are trained by the centaur Chiron in the arts of war and medicine, but when word comes that Helen of Sparta has been kidnapped, all the heroes of Greece are called upon to lay siege to Troy in her name. Seduced by the promise of a glorious destiny, Achilles joins their cause, and torn between love and fear for his friend, Patroclus follows. Little do they know that the cruel Fates will test them both as never before and demand a terrible sacrifice.
---
As someone who is absolutely obsessed with Greek mythology (the Percy Jackson got me into it in the fifth grade, as it did so many others) and is especially obsessed with The Illiad, I really can't believe that I didn't read this sooner. I have a lot of friends who were constantly recommending it to me, but it was still a little while before I finally picked up a copy. The Song of Achilles is basically a retelling of The Illiad, following the story of, as you may have been able to guess, Achilles, as well as Patroclus. No in depth knowledge of Greek mythology is required in order to understand and enjoy this book.
Packaging: 4/5 Stars. 
It's not one of my favorites, but the packaging is definitely eye catching and artsy. I really like the physical copy of it; it's so much more than the picture is able to show. The cover is a really cool texture and isn't completely 2-dimensional. 
Writing Style: 5/5 Stars. 
Madeline Miller's writing style is absolutely beautiful. It's alluring, lyrical, and captivating- her tone can change from a steady pace to a fast one quite quickly. The writing style of this book, as well as everything else, had me so absorbed that I'd be extremely snappish whenever interrupted from my reading. I was practically entranced while reading this book. 
Characters: 5/5 Stars. 
I absolutely love how Miller wrote these characters- she goes more into depth about Patroclus, telling most of the story from his perspective, and shows sides of Achilles that The Illiad never really portrayed. We now have explanations for his actions, and we get to watch him throughout everything that he suffers in a way that is unlike Homer's blunter writing style. While both characters have their blatant flaws, Miller writes them to be raw, passionate, and so well rounded. No character is ever one thing- no one is just a hero, just a villain, just an asshole, etc. They're complex and well developed throughout the course of the book. 
Plot: 5/5 Stars. 
Madeline Miller retells the story of The Illiad beautifully. The plot is not one that can be considered steady, but in the case of this book, that's a good thing. The plot is slow placed when necessary, but fast paced when it's called for. Battle scenes are written well, with the plot never losing focus on the main storyline of this book, which is that of Achilles and Patroclus. The love present in this book is developed, and is built up upon throughout the course of the story in a way that is so raw and real and passionate that it will break your heart. 
Overall: 5/5 Stars.
As you can probably tell, I fell completely in love with this book. The feeling that I was left with after finishing was a bittersweet one- The Song of Achilles is a book that makes you wish for temporary amnesia so that you could reread it and experience the beauty of it all over again. Madeline Miller does an absolutely brilliant job retelling Achilles' story, and I highly recommend this book for fans of mythology, and especially for fans of Greek mythology.