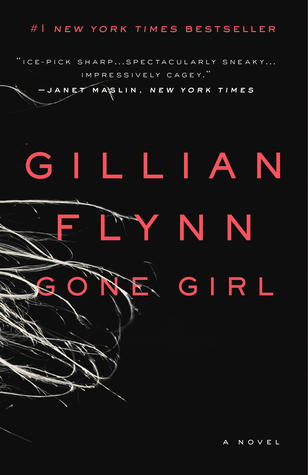 Title: Gone Girl
Author: Gillian Flynn
Published: 2012
Genre: Mystery
Length: 395 pages
Rating: ★★★☆☆

On a warm summer morning in North Carthage, Missouri, it is Nick and Amy Dunne's fifth wedding anniversary. Presents are being wrapped and reservations are being made when Nick's clever and beautiful wife disappears. Husband-of-the-Year Nick isn't doing himself any favors with cringe-worthy daydreams about the slope and shape of his wife's head, but passages from Amy's diary reveal the alpha-girl perfectionist could have put anyone dangerously on edge. Under mounting pressure from the police and the media—as well as Amy's fiercely doting parents—the town golden boy parades an endless series of lies, deceits, and inappropriate behavior. Nick is oddly evasive, and he's definitely bitter—but is he really a killer?
---
This book definitely blew up everywhere- not just on the internet, or in the BookTube community, but literally everywhere. It received numerous awards and recognition and was turned into a movie that was even nominated for an Oscar. However, I was wary when I read this book for the first time. I always try not to get my expectations up when it comes to reading super hyped books, as I usually end up disappointed (not that it's the book's fault- it's mine for having such high expectations). So, the question here is (as it often is), does this book live up to the hype?
Packaging: 4.5/5 Stars. I actually really like the packaging of this book. It definitely looks very dark and mysterious, which is appropriate, considering the premise of the story. While I've seen and held the physical copy of this book before, I don't actually own it. But it's very glossy and sleek, and it's definitely a favorite. 
Writing Style: 3/5 Stars. The writing style of this book wasn't very consistent. There were times where I felt extremely bored, and it was as if the pace of the book was just dragging on. However, there were also times (specifically during the second half of the book) when it became very fast paced and exciting- this leaves me confused when it comes to rating the writing style, as the author holds so much potential and talent that is only revealed during certain scenes. 
Characters: 3/5 Stars. My ranking of 3 stars is not based on how much I enjoyed the characters, but rather how well they were developed and written. I absolutely hated both Amy and Nick. I felt that they were both extreme narcissists that attempted to justify a lot of their actions that are, quite simply, unjustifiable. I disliked Nick more than I disliked Amy, however. He had a tendency to completely alleviate a lot of blame pointed towards him by attempting to justify his actions, and that absolutely drove me crazy. Neither of the characters were likeable in the slightest- however, they were well written and developed by the author. It's clear that her writing the characters to be so unlikeable is deliberate, and she definitely succeeded in her intentions. 
Plot: 3/5 Stars. The idea of the plot for Gone Girl in itself is so, so great. I loved the idea of it, and I still love the idea of it. It's sharp and dark and suspenseful and surprising- my problem with the plot of the book is not the plot in general, but in its execution. Similarly to the writing style, at times the plot could become incredibly dry, as well as irritating (where Nick was involved) and it felt as if it was just dragging on. The plot definitely picked up towards the second half of the book and became much more fast paced, but that isn't enough to raise my rating to 4 stars. 
Overall: 3/5 Stars. Gone Girl is excellent in its general plot and central storyline- it simply lacks in execution. The story could fall flat at times, and while it continuously managed to pick itself up, it wasn't enough to make up for its dry spots. I also felt that Nick and Amy were just too dislikeable for me to enjoy reading about them, whether they were intentionally written that way or not. I didn't dislike Gone Girl, I just didn't enjoy it in the way that other peoples' ravings made me think I would.