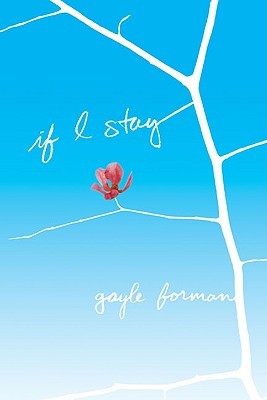 Title: If I Stay
Author: Gayle Forman
Published: 2009
Genre: Contemporary
Length: 201 pages
Rating: ★★★★☆

Just listen, Adam says with a voice that sounds like shrapnel.

I open my eyes wide now.
I sit up as much as I can.
And I listen.

Stay, he says.

Choices. Seventeen-year-old Mia is faced with some tough ones: Stay true to her first love—music—even if it means losing her boyfriend and leaving her family and friends behind?

Then one February morning Mia goes for a drive with her family, and in an instant, everything changes. Suddenly, all the choices are gone, except one. And it's the only one that matters.

If I Stay is a heartachingly beautiful book about the power of love, the true meaning of family, and the choices we all make.
---
This book really surprised me.
Unlike other books that receive a lot of hype, I went into this with very low expectations. I was just extremely skeptical and felt that it would be cheesy and superficial- I didn't expect it to be moving or meaningful in any way. 
This only serves as an example of how much the universe likes to prove me wrong. 
Packaging: 4/5 Stars. If I Stay has multiple editions, but the edition in the picture shown is definitely my favorite. I find that it's really beautiful in a simplistic way, and that it has an almost sad feeling to it? I may be interpreting it that way only because I know about the events that occur in this book, but either way, the designer did a great job. 
Writing Style: 4/5 Stars. Gayle Forman is definitely a very talented writer- her writing flows in a way that is almost poetic, but not in a "flowery way", and transitions very smoothly. This is actually the first book that I've read by her, and I was very pleasantly surprised. Her writing is beautiful and has the ability to convey such emotion and depth. She executes heart wrenching scenes in a way that is exactly that- heart wrenching. Although there were a few scenes that I definitely found to be cheesy, there weren't enough of them to significantly alter my opinion of the writing in this book. 
Characters: 4.5/5 Stars. I liked Mia, the protagonist of this book, much more than I expected to. She's an extremely talented musician who is passionate about what she loves, but is very conflicted about the path that she wants to take in life (and her decision isn't made any easier to make due to the events that unfold in this book). The relationships between her and the members of her family really touched me; they and the love that they have for each other seemed so real, to the point that they were absolutely vibrant. I also loved the relationship between her and her best friend (who happens to be my favorite character behind Mia), and I enjoyed reading about the relationship between her and her boyfriend, Adam. I liked Adam, I really did- it's just that at times, the relationship between him and Mia seemed strained and a bit forced. However, I personally interpreted this as the way that the author purposely wrote their relationship, in order to make the conflict occurring within Mia more understandable. 
Plot: 4.5/5 Stars. I'm going to repeat what I've been saying since I began writing this review- I enjoyed the plot of this book so much more than I thought I would. Instead of being cheesy, like it easily could have been, the plot was thoughtful, sincere, and moving. Gayle Forman uses Mia and her life, both present, past, and the possible future, to explore a topic that provokes thought in the reader- (because I don't want to end up spoiling anyone, I'll keep my interpretation of the topic vague enough that it won't spoil, but readers of the book will understand) if you were given the choice, what would you choose? There were also flashbacks that were, in my opinion, tastefully included, allowing us to look more into Mia's personal life and see all the happiness and love and turmoil and everything in between that it had always contained. 
Overall: 4/5 Stars. My overall thoughts on this book can be summed up with this short sentence that I wrote on GoodReads after reading this book for the first time: I began this book with no expectations, but it ended up truly touching me. Gayle Forman's talent is apparent through her writing of this book, and the characters and the love between them that she creates will not be easily forgotten. This book ended up being quiet and moving, and absolutely beautiful.