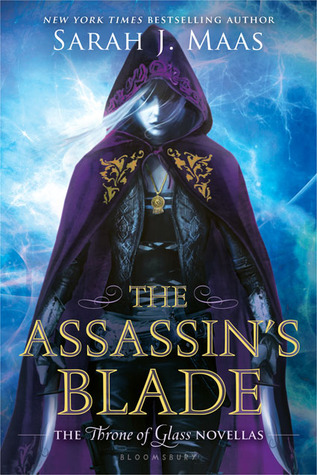 Title: The Assassin's Blade
Author: Sarah J. Maas
Published: 2014
Genre: Fantasy/Young Adult
Length: 430 pages
Rating: ★★★★★

Contains all five novellas.

Celaena Sardothien is Adarlan's most feared assassin. As part of the Assassin's Guild, her allegiance is to her master, Arobynn Hamel, yet Celaena listens to no one and trusts only her fellow killer-for-hire, Sam. In these action-packed novellas – together in one edition for the first time – Celaena embarks on five daring missions. They take her from remote islands to hostile deserts, where she fights to liberate slaves and seeks to avenge the tyrannous. But she is acting against Arobynn's orders and could suffer an unimaginable punishment for such treachery. Will Celaena ever be truly free? Explore the dark underworld of this kick-ass heroine to find out.
---
I just realized that I never got around to posting my review of the collection of novellas from one of my favorite book series ever, so here I am. The Assassin's Blade serves as a collection of all five novellas (prequels) to the Throne of Glass. These novellas follow Celaena and the events that take place before those that are in the Throne of Glass occur. I read The Assassin's Blade after finishing the three books from this series that are released, and as, like I've stated many times before, Throne of Glass is one of my favorite book series ever, I was extremely excited and had very high expectations for these novellas. Were my expectations met? (I'm pretty sure that you guys already suspect the answer). 
Packaging: 4.5/5 Stars. As I always say, the books in the Throne of Glass series have some of my favorite fantasy covers ever, and The Assassin's Blade is no exception. I love Celaena's portrayal on the cover, and I am absolutely coveting a physical copy of this book, as well as the other three books in this series. 
Writing Style: 5/5 Stars. Sarah J. Maas has yet to disappoint me- I've been unable to stop singing her writing praises after reading Crown of Midnight, and, two books later, she hasn't let me down at all. She writes intensely, with an uncanny ability to capture passion, pain, happiness, suspense, and practically everything in between in her writing.
Characters: 5/5 Stars. One of my favorite things about prequels is how they help readers to better understand and truly know the characters of the book/s. These novellas helped me to learn so much more about Celaena's past, as well as the history that she has with other characters mentioned throughout the series. I felt as if I was getting to know her on a whole other level within the character-reader spectrum. Through Throne of Glass, I know who she is now, but through The Assassin's Blade, I learned of everything that occurred in order to shape her into the character that I know- the beautiful, passionate, determined, brave, compassionate, and absolutely real woman that she is. I also loved finally being able to learn about Sam and read about him- and at the same time, I hated it, as I absolutely fell in love with his character and wish that he could come along on Celaena's journey through the Throne of Glass series. 
Plot: 5/5 Stars. I absolutely adored the plots of all the novellas. They were all intense and fast paced, and all served a purpose in helping the reader to gain a better understanding of Celaena's character and history, and how it is that she is where she is now in the series. The worldbuilding in this book, was, as usual, absolutely flawless. I loved being able to expand my vision, as a reader, to different parts of the fantasy world that Celaena lives in. 
Overall: 5/5 Stars. There is nothing but love in my heart for this book, as well as all the other books in this series. The writing in this book is absolutely beautiful, there is a new understanding that we have of some of the central figures of this series, and we, as readers, are able to truly understand this world more. The plots of these novellas all help to give the books in the Throne of Glass series a new kind of depth, and allow us to truly understand this world even more- it feels as if we've lived through all the events, both past and present, alongside Celaena, which is exactly the goal that every prequel ought to attempt to achieve.