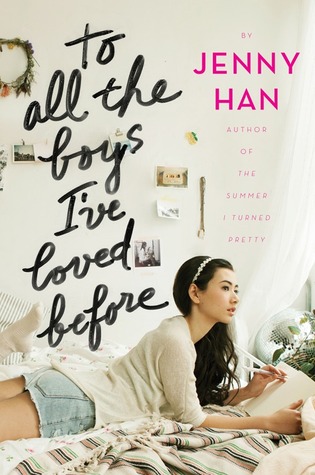 Title: To All The Boys I've Loved Before
Author: Jenny Han
Published: 2014
Genre: Contemporary
Length: 355 pages
Rating: ★★★½☆☆

Lara Jean keeps her love letters in a hatbox her mother gave her.

They aren't love letters that anyone else wrote for her, these are ones she's written. One for every boy she's ever loved—five in all. When she writes, she can pour out her heart and soul and say all the things she would never say in real life, because her letters are for her eyes only. Until the day her secret letters are mailed, and suddenly Lara Jean's love life goes from imaginary to out of control.
Packaging: 5/5 Stars. I find this packaging to be absolutely adorable, and easily identifiable as contemporary (which is a good thing). I love how the title of the book is printed in a way that it looks as if it was written in sharpie, and, while I don't own a physical copy of the book, I've seen physical copies and love how the 'sharpie' glints to give the same illusion.
Writing Style: 3.5/5 Stars. While Jenny Han is a good author, I found the writing in this book to be just that- pretty good. There wasn't anything that I particularly liked about it, I just found the book to be pretty well written. 
Characters: 3/5 Stars. I personally found Lara Jean to be quite annoying- not all the time, but throughout the story, Lara Jean reminds me of someone far younger than 16. She can be quite immature and obnoxious, as well as overly innocent. She just wasn't a character that I was able to 'click' with. However, I actually really enjoyed Peter's character. I found him to be very three dimensional; I was able to perceive him as an actual high school boy. 
Plot: 4/5 Stars. The plot of this book was really cute- it contained a lot of fluff, and, for the most part, was very light hearted. Although there is definitely more heaviness to the plot towards the end, this book reminds me of a cute contemporary that you'd read during the Spring/Summer months when in the mood for some light reading. 
Overall: 3.5/5 Stars. While I did enjoy this book and found it rather cute, it's not an absolute favorite of mine. Jenny Han is definitely a good writer, and although our protagonist is lacking in likeability, Peter helps to make up for it. The plot is very fluffy and sweet, leaving this book to remind me of a very stereotypical romantic contemporary (this isn't meant in a bad way!). I recommend this as a Summer TBR, as something to read when you just want to relax and enjoy something sweet and simple.