Sorry that this is a bit late, but this post is going to be my April wrap up! In the month of April, I completed 4 books- considering the fact that April was a pretty busy month for me, I think I did pretty well. I really ended up enjoying all of the books that I read this month; I don't regret reading any of them. 
The first book that I read in the month of April was Red Queen by Victoria Aveyard.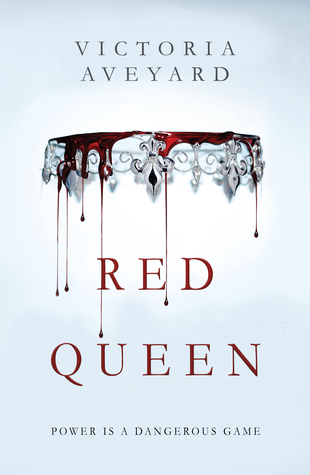 The poverty stricken Reds are commoners, living under the rule of the Silvers, elite warriors with god-like powers.
To Mare Barrow, a 17-year-old Red girl from The Stilts, it looks like nothing will ever change.
Mare finds herself working in the Silver Palace, at the centre of
those she hates the most. She quickly discovers that, despite her red blood, she possesses a deadly power of her own. One that threatens to destroy Silver control.
But power is a dangerous game. And in this world divided by blood, who will win?
My review of Red Queen can be found here. I definitely enjoyed Red Queen and ended up giving it 4 out of 5 stars.
The second book that I read was Anthem by Ayn Rand. 
In Anthem, Rand examines a frightening future in which individuals have no name, no independence, and no values. Equality 7-2521 lives in the dark ages of the future where all decisions are made by committee, all people live in collectives, and all traces of individualism have been wiped out. Despite such a restrictive environment, the spark of individual thought and freedom still burns in him – a passion which he has been taught to call sinful.
In a purely egalitarian world, Equality 7-2521 dares to stand apart from the herd- to think and choose for himself, to discover electricity, and to love the woman of his choice. Now he has been marked for death for committing the ultimate sin.
I read Anthem because two close friends of mine had been pressuring me to read it for a while. It was a really short read; it took me about an hour to finish, if that. I found that it had a really interesting writing style that took me a bit of time to adjust to, but it contained some really worthwhile themes and explored a really important subject. I gave Anthem 4 out of 5 stars.
The third book that I read was Vanishing Girls by Lauren Oliver.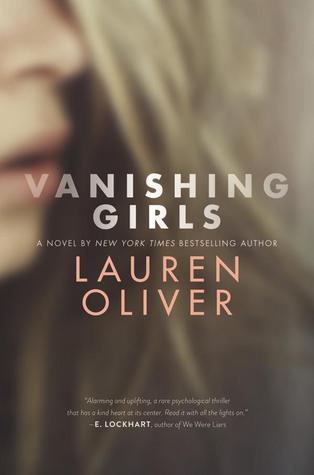 Dara and Nick used to be inseparable, but that was before the accident that left Dara's beautiful face scarred and the two sisters totally estranged. When Dara vanishes on her birthday, Nick thinks Dara is just playing around. But another girl, nine-year-old Madeline Snow, has vanished, too, and Nick becomes increasingly convinced that the two disappearances are linked. Now Nick has to find her sister, before it's too late.
In this edgy and compelling novel, Lauren Oliver creates a world of intrigue, loss, and suspicion as two sisters search to find themselves, and each other.
I read this book because a good friend of mine absolutely adored it- she gave it 5 out of 5 stars and raved about it. Upon reading it, I definitely found it enjoyable. It was a good, fast paced, complex, interesting read that could definitely be called a psychological thriller. I really enjoyed the element of mystery that was added to it, and while the plot twist was surprising, I was a bit disappointed by it. I also found that there were plot holes within the story, and that certain things weren't covered as thoroughly as I had wanted them to be. I ended up giving this book 3.5 out of 5 stars. 
The last book that I read in April was Teen Angst? Naaah… by Ned Vizzini. 
"The events in these stories are real. Some names have been changes so I don't get yelled at." —Ned Vizzini
 
Ned Vizzini writes about the weird, funny, and sometimes mortifying moments that made up his teen years. With wit, irony, and honesty, Teen Angst? Naaah . . .  invites you into Ned's world of school, parents, cool (and almost cool), street people, rock bands, friends, fame, camp, sex (sort of), Cancún (almost), prom, beer, video games, and more.
My review of Teen Angst? Naaah… can be found here. I really appreciated being able to better get to know Ned Vizzini before I begin reading his other books through the stories of his adolescence. I gave this book 4 out of 5 stars. 
April was definitely a good reading month for me. I enjoyed all of the books that I read, and don't regret reading any of them. Although I didn't complete most of the books on my April TBR, I'll definitely be sure to get to those books eventually. I won't be putting up a May TBR because May is technically my last month of school. It's going to be extremely busy, and I really can't afford to have any distractions.
Thank you all for reading, and I hope your April readings were as successful as mine!