I know that it's a bit late to be posting a TBR for the month, but I decided to put one up anyways.
1. The Stranger by Albert Camus 
Through the story of an ordinary man unwittingly drawn into a senseless murder on an Algerian beach, Camus explored what he termed "the nakedness of man faced with the absurd."
It's nice to know that the synopsis for this book isn't vague at all. Kidding- The Stranger is a book that I've been meaning to get to for a while now, and since it's so thin, I'm sure that I'll be able to finish it quickly in the month of June.
2. All the Light We Cannot See by Anthony Doerr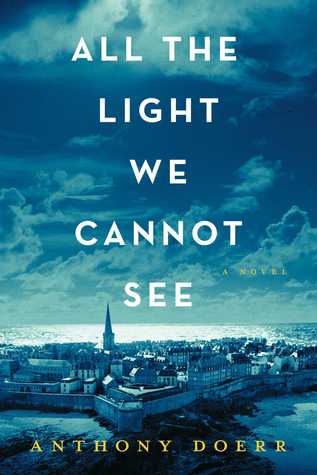 Marie-Laure lives with her father in Paris near the Museum of Natural History, where he works as the master of its thousands of locks. When she is six, Marie-Laure goes blind and her father builds a perfect miniature of their neighborhood so she can memorize it by touch and navigate her way home. When Marie-Laure is twelve, the Nazis occupy Paris, and father and daughter flee to the walled citadel of Saint-Malo, where Marie-Laure's reclusive great-uncle lives in a tall house by the sea. With them they carry what might be the museum's most valuable and dangerous jewel.
In a mining town in Germany, the orphan Werner grows up with his younger sister, enchanted by a crude radio they find. Werner becomes an expert at building and fixing these crucial new instruments, a talent that wins him a place at a brutal academy for Hitler Youth, then a special assignment to track the resistance. More and more aware of the human cost of his intelligence, Werner travels through the heart of the war and, finally, into Saint-Malo, where his story and Marie-Laure's converge.
I've heard nothing but good things about this book, and as a huge fan of historical fiction, I really can't wait to read it. 
3. Burned by Ellen Hopkins (Burned #1)
I do know things really began to spin out of control after my first sex dream.
It all started with a dream. Nothing exceptional, just a typical fantasy about a boy, the kind of dream that most teen girls experience. But Pattyn Von Stratten is not like most teen girls. Raised in a religious — yet abusive — family, a simple dream may not be exactly a sin, but it could be the first step toward hell and eternal damnation.
This dream is a first step for Pattyn. But is it to hell or to a better life? For the first time Pattyn starts asking questions. Questions seemingly without answers — about God, a woman's role, sex, love — mostly love. What is it? Where is it? Will she ever experience it? Is she deserving of it?
It's with a real boy that Pattyn gets into real trouble. After Pattyn's father catches her in a compromising position, events spiral out of control until Pattyn ends up suspended from school and sent to live with an aunt she doesn't know.
Pattyn is supposed to find salvation and redemption during her exile to the wilds of rural Nevada. Yet what she finds instead is love and acceptance. And for the first time she feels worthy of both — until she realizes her old demons will not let her go. Pattyn begins down a path that will lead her to a hell — a hell that may not be the one she learned about in sacrament meetings, but it is hell all the same.
I'm not going to lie- based on the synopsis for this book, I'm more than a little skeptical about it. However, I'm borrowing it from a friend whose opinion I highly value and trust, so I'll definitely be giving it a try and reading it this month.
4. Let the Great World Spin by Colum McCann
In the dawning light of a late-summer morning, the people of lower Manhattan stand hushed, staring up in disbelief at the Twin Towers. It is August 1974, and a mysterious tightrope walker is running, dancing, leaping between the towers, suspended a quarter mile above the ground. In the streets below, a slew of ordinary lives become extraordinary in bestselling novelist Colum McCann's stunningly intricate portrait of a city and its people.

Let the Great World Spin is the critically acclaimed author's most ambitious novel yet: a dazzlingly rich vision of the pain, loveliness, mystery, and promise of New York City in the 1970s.
Corrigan, a radical young Irish monk, struggles with his own demons as he lives among the prostitutes in the middle of the burning Bronx. A group of mothers gather in a Park Avenue apartment to mourn their sons who died in Vietnam, only to discover just how much divides them even in grief. A young artist finds herself at the scene of a hit-and-run that sends her own life careening sideways. Tillie, a thirty-eight-year-old grandmother, turns tricks alongside her teenage daughter, determined not only to take care of her family but to prove her own worth.
Elegantly weaving together these and other seemingly disparate lives, McCann's powerful allegory comes alive in the unforgettable voices of the city's people, unexpectedly drawn together by hope, beauty, and the "artistic crime of the century." A sweeping and radical social novel, Let the Great World Spin captures the spirit of America in a time of transition, extraordinary promise, and, in hindsight, heartbreaking innocence. Hailed as a "fiercely original talent" (San Francisco Chronicle), award-winning novelist McCann has delivered a triumphantly American masterpiece that awakens in us a sense of what the novel can achieve, confront, and even heal.
As you can tell from the slightly overwhelming synopsis, Let the Great World Spin sounds as if it contains an extremely complex and intricate storyline. It was recommended to me by my English teacher, so i really hope that I end up enjoying it.
5. The Winner's Curse by Marie Rutkoski (The Winner's Trilogy #1)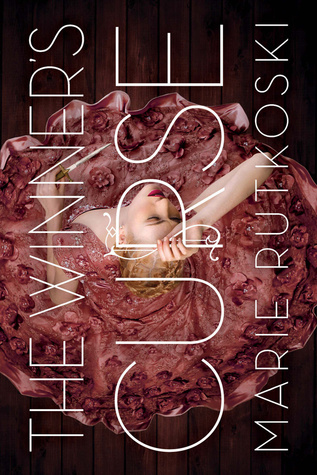 Winning what you want may cost you everything you love… 
As a general's daughter in a vast empire that revels in war and enslaves those it conquers, seventeen-year-old Kestrel has two choices: she can join the military or get married. But Kestrel has other intentions.
One day, she is startled to find a kindred spirit in a young slave up for auction. Arin's eyes seem to defy everything and everyone. Following her instinct, Kestrel buys him—with unexpected consequences. It's not long before she has to hide her growing love for Arin.
But he, too, has a secret, and Kestrel quickly learns that the price she paid for a fellow human is much higher than she ever could have imagined.
There was a ton of hype surrounding this book recently, but from what I've heard, with its fantasy setting and war conflict, it contains practically everything that I enjoy in a book- I say practically because I've never been a fan of romance in books, so hopefully it's done well. I definitely hope to finish this book this month. 
6. Fairest by Marissa Meyer (The Lunar Chronicles #3.5)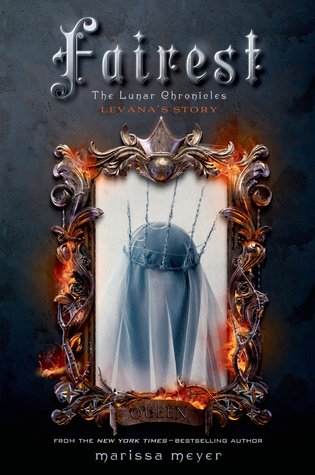 In this stunning bridge book between Cress and Winter in the bestselling Lunar Chronicles, Queen Levana's story is finally told.
Mirror, mirror on the wall,
Who is the fairest of them all?
Fans of the Lunar Chronicles know Queen Levana as a ruler who uses her "glamour" to gain power. But long before she crossed paths with Cinder, Scarlet, and Cress, Levana lived a very different story – a story that has never been told . . . until now.
As someone who's a huge fan of the Lunar Chronicles and is literally counting down the days until Winter is released, I really want to be able to read Fairest this month. 
So, this is my TBR for the month. I honestly think that it won't be too difficult to complete, seeing that I'm on summer break and have a few weeks before my crazy summer schedule kicks in. However, it might be a little difficult for me to read The Winner's Curse and Fairest, seeing that I don't have physical copies of the books. I'll just purchase them as soon as possible- RIP my wallet.