Top Ten Tuesday is hosted by The Broke and the Bookish 
*These books are listed in no particular order of preference!
1. Queen of Shadows by Sarah J. Maas (Throne of Glass #4) | Release date: September 1, 2015
Everyone Celaena Sardothien loves has been taken from her. But she's at last returned to the empire—for vengeance, to rescue her once-glorious kingdom, and to confront the shadows of her past . . .
She will fight for her cousin, a warrior prepared to die just to see her again. She will fight for her friend, a young man trapped in an unspeakable prison. And she will fight for her people, enslaved to a brutal king and awaiting their lost queen's triumphant return.
Celaena's epic journey has captured the hearts and imaginations of millions across the globe. This fourth volume will hold readers rapt as Celaena's story builds to a passionate, agonizing crescendo that might just shatter her world.
This book has me ready to stab myself in the face I am so beyond ready
2. Winter by Marissa Meyer (The Lunar Chronicles #4) | Release date: November 10, 2015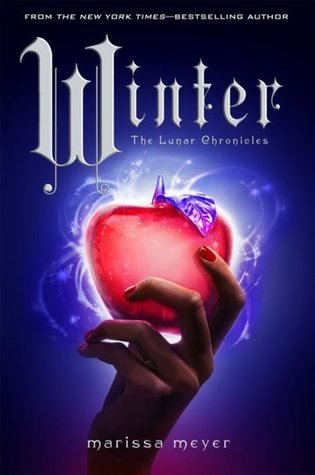 Princess Winter is admired by the Lunar people for her grace and kindness, and despite the scars that mar her face, her beauty is said to be even more breathtaking than that of her stepmother, Queen Levana.
Winter despises her stepmother, and knows Levana won't approve of her feelings for her childhood friend–the handsome palace guard, Jacin. But Winter isn't as weak as Levana believes her to be and she's been undermining her stepmother's wishes for years. Together with the cyborg mechanic, Cinder, and her allies, Winter might even have the power to launch a revolution and win a war that's been raging for far too long.
Can Cinder, Scarlet, Cress, and Winter defeat Levana and find their happily ever afters?
Here we have yet another book that I can barely contain my excitement for- is the cover art my favorite? Well, no, but the fact that Winter is going to take place on the moon and is told from the perspective of an extremely intriguing character makes up for it.
3. The Scorpion Rules by Erin Bow | Release date: September 22, 2015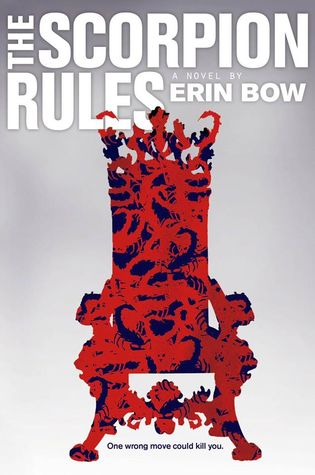 A world battered by climate shift and war turns to an ancient method of keeping peace: the exchange of hostages. The Children of Peace – sons and daughters of kings and presidents and generals – are raised together in small, isolated schools called Preceptures. There, they learn history and political theory, and are taught to gracefully accept what may well be their fate: to die if their countries declare war.
Greta Gustafsen Stuart, Duchess of Halifax and Crown Princess of the Pan-Polar Confederation, is the pride of the North American Prefecture. Learned and disciplined, Greta is proud of her role in keeping the global peace, even though, with her country controlling two-thirds of the world's most war-worthy resource — water — she has little chance of reaching adulthood alive.
Enter Elián Palnik, the Prefecture's newest hostage and biggest problem. Greta's world begins to tilt the moment she sees Elián dragged into the school in chains. The Prefecture's insidious surveillance, its small punishments and rewards, can make no dent in Elián, who is not interested in dignity and tradition, and doesn't even accept the right of the UN to keep hostages.
What will happen to Elián and Greta as their two nations inch closer to war?
I really enjoy reading books with political aspects, and I'm especially interested in global politics. So, it can be understood why this dystopian twist on the United Nations would be so appealing to me. I'm extremely intrigued by the premise of this book and can't wait until it's released so that I'm able to read it. 
4. Go Set a Watchman by Harper Lee (To Kill a Mockingbird #2) | Release date: July 14, 2015
Originally written in the mid-1950s, Go Set a Watchman was the novel Harper Lee first submitted to her publishers before To Kill a Mockingbird. Assumed to have been lost, the manuscript was discovered in late 2014.
Go Set a Watchman features many of the characters from To Kill a Mockingbird some twenty years later. Returning home to Maycomb to visit her father, Jean Louise Finch—Scout—struggles with issues both personal and political, involving Atticus, society, and the small Alabama town that shaped her.
Exploring how the characters from To Kill a Mockingbird are adjusting to the turbulent events transforming mid-1950s America, Go Set a Watchman casts a fascinating new light on Harper Lee's enduring classic. Moving, funny and compelling, it stands as a magnificent novel in its own right.
To Kill a Mockingbird was definitely one of my favorite classics growing up, and remains one of my favorite books of all time. So naturally, I was really surprised when I found out that Harper Lee would be releasing a sequel, but also very curious and excited. I already have Go Set a Watchman pre-ordered and can't wait to read it.
5. The Rest of Us Just Live Here by Patrick Ness | Release date: August 27, 2015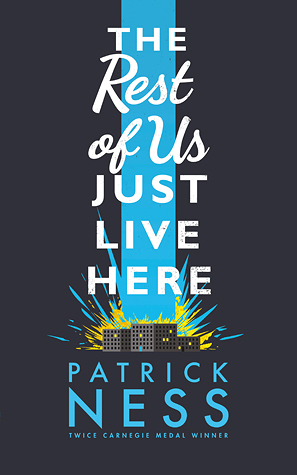 What if you aren't the Chosen One?
The one who's supposed to fight the zombies, or the soul-eating ghosts, or whatever the heck this new thing is, with the blue lights and the death?
What if you're like Mikey? Who just wants to graduate and go to prom and maybe finally work up the courage to ask Henna out before someone goes and blows up the high school. Again.
Because sometimes there are problems bigger than this week's end of the world, and sometimes you just have to find the extraordinary in your ordinary life.
Even if your best friend is worshiped by mountain lions.
I found myself really interested in the plot of this book- it's not really one that's been written before. I also really love the cover art, and I've been wanting to read a book by Patrick Ness for quite a while now. 
I couldn't think of any other books to be on this list- a lot of my most anticipated books of 2015 were released in the first half of 2015. Let me know if there are any books being released later this year that I should know about!