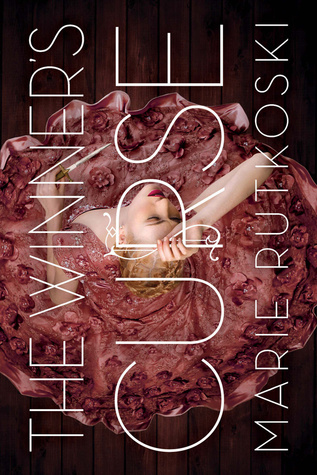 Title: The Winner's Curse
Author: Marie Rutkoski
Published: 2014
Genre: Fantasy/Young Adult
Length: 355 pages
Rating: ★★★★☆

Winning what you want may cost you everything you love… 

As a general's daughter in a vast empire that revels in war and enslaves those it conquers, seventeen-year-old Kestrel has two choices: she can join the military or get married. But Kestrel has other intentions.

One day, she is startled to find a kindred spirit in a young slave up for auction. Arin's eyes seem to defy everything and everyone. Following her instinct, Kestrel buys him—with unexpected consequences. It's not long before she has to hide her growing love for Arin.

But he, too, has a secret, and Kestrel quickly learns that the price she paid for a fellow human is much higher than she ever could have imagined.

Set in a richly imagined new world, The Winner's Curse by Marie Rutkoski is a story of deadly games where everything is at stake, and the gamble is whether you will keep your head or lose your heart.
---
The Winner's Curse is the first book from my June TBR that I finished. I had high hopes for it, seeing that, from the synopsis, it seemed to contain many things that I enjoy in a book- some of them being a fantasy setting and war conflict. This book definitely has received a ton of hype on BookTube and amongst book bloggers, so my expectations were already fairly high when I began reading.
Packaging: 5/5 Stars
I love the cover art of this book- I think that it's absolutely beautiful. I don't own a physical copy of the book, so I can't comment on the quality of the physical quality of the book and sleeve. 
Writing Style: 4/5 Stars
Marie Rutkoski is definitely an extremely talented author. Her prose is beautiful, and everything, from the worldbuilding to the characters to the dialogue, is so well written. However, and I'm not sure what it is in particular, seeing that I did genuinely enjoy her writing style, I kept feeling as if there was something missing- a certain aspect that was preventing me from enjoying the book as much as everyone else seemed to have had. If I can figure out what it is that I felt was missing, I'll definitely update this review.
Characters: 4.5/5 Stars
Beginning with our protagonist and main character, Kestrel- I absolutely loved her. She's definitely one of my favorite characters that I've read about, not only this year, but in general. She's so shrewd and quick witted, as well as extremely strategic and politically clever. Kestrel wasn't anything like the majority of female protagonists that I've read about in YA Fantasies, or even Dystopians. She isn't a warrior, or even a soldier- her strengths don't lay with an ability with weapons, but instead, her intellect, pragmatism and tactical mind. She felt so real to me as a character- I loved how her suffering and emotional pain was shared in the book, and how there were instances in which she broke down and cried. These moments of vulnerability helped me connect to Kestrel even more. As with Arin, I ultimately loved him as well. Although there were definitely moments where I was extremely pissed with him, mostly on Kestrel's behalf, and I felt that he could get to be a bit ridiculous, I enjoyed his brutal honesty and his sharp mind that made him one of the only true competitors that Kestrel ever had in regards to her quick wit. 
Plot: 4/5 Stars
This plot contains practically everything that I love in a fantasy- the extremely political and militaristic settings and strongly interwoven themes of strategy were so fascinating to me. However, I couldn't help but grow a bit annoyed with the romance in the second half of the book, especially after Arin's betrayal is made known to Kestrel (<- highlight over blank space for a spoiler). It just didn't seem right to me that Kestrel would even come close to forgiving him again, especially not after what his actions almost did to Jess. Although that I understand how Kestrel comes to understands the reasons behind Arin's actions, it doesn't resonate well with me that she'd let that wash away everything else that he had done to her and the people that she's known all her life, inadvertently or not (<- highlight over blank space for spoilers). Those were definitely the biggest issues that I had concerning the plot of the book. 
Overall: 4/5 Stars
The Winner's Curse merited a solid 4 out of 5 stars. Although there were a few minor issues that I had with the book, and I didn't enjoy it as much as everyone else seemed to, I loved the main character and the world that this book is set in, as well as the political and militaristic backdrops and many other aspects.