The Rainbow Read-a-Thon runs through June 15th-June 22nd and is hosted by the girls at Carpe Librum. For the #rainbowthon, you read 6 books that make up the colors of the rainbow (red, orange, yellow, green, blue, and purple). You can combine 2 colors on up to two books, or you can read 6 books with same color spine (ex. 6 books with red spines). You can read any type of book you want. 
The books that I plan to read for this read-a-thon are:
RED
Let the Great World Spin by Colum McCann (*the spine is red!)
In the dawning light of a late-summer morning, the people of lower Manhattan stand hushed, staring up in disbelief at the Twin Towers. It is August 1974, and a mysterious tightrope walker is running, dancing, leaping between the towers, suspended a quarter mile above the ground. In the streets below, a slew of ordinary lives become extraordinary in bestselling novelist Colum McCann's stunningly intricate portrait of a city and its people.

Let the Great World Spin is the critically acclaimed author's most ambitious novel yet: a dazzlingly rich vision of the pain, loveliness, mystery, and promise of New York City in the 1970s.
Corrigan, a radical young Irish monk, struggles with his own demons as he lives among the prostitutes in the middle of the burning Bronx. A group of mothers gather in a Park Avenue apartment to mourn their sons who died in Vietnam, only to discover just how much divides them even in grief. A young artist finds herself at the scene of a hit-and-run that sends her own life careening sideways. Tillie, a thirty-eight-year-old grandmother, turns tricks alongside her teenage daughter, determined not only to take care of her family but to prove her own worth.
Elegantly weaving together these and other seemingly disparate lives, McCann's powerful allegory comes alive in the unforgettable voices of the city's people, unexpectedly drawn together by hope, beauty, and the "artistic crime of the century." A sweeping and radical social novel, Let the Great World Spin captures the spirit of America in a time of transition, extraordinary promise, and, in hindsight, heartbreaking innocence. Hailed as a "fiercely original talent" (San Francisco Chronicle), award-winning novelist McCann has delivered a triumphantly American masterpiece that awakens in us a sense of what the novel can achieve, confront, and even heal.
This book is on my June TBR as it is, so I thought this read-a-thon would be a good opportunity to read it. 
ORANGE
I'll Give You the Sun by Jandy Nelson (*the spine is orange) (*will be reading this in eBook format)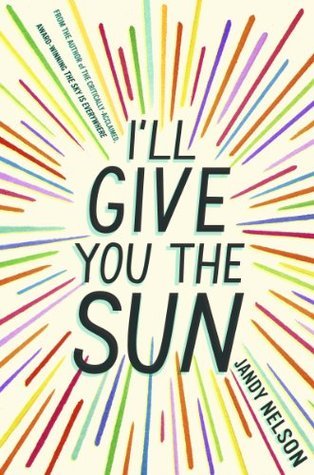 Jude and her twin brother, Noah, are incredibly close. At thirteen, isolated Noah draws constantly and is falling in love with the charismatic boy next door, while daredevil Jude cliff-dives and wears red-red lipstick and does the talking for both of them. But three years later, Jude and Noah are barely speaking. Something has happened to wreck the twins in different and dramatic ways . . . until Jude meets a cocky, broken, beautiful boy, as well as someone else—an even more unpredictable new force in her life. The early years are Noah's story to tell. The later years are Jude's. What the twins don't realize is that they each have only half the story, and if they could just find their way back to one another, they'd have a chance to remake their world.
I've been meaning to read I'll Give You the Sun for the longest time- months, now, and this read-a-thon seemed like the perfect time to finally get around to it. 
YELLOW
The Help by Kathryn Stockett (*will be reading this in eBook format)
Three ordinary women are about to take one extraordinary step.
Twenty-two-year-old Skeeter has just returned home after graduating from Ole Miss. She may have a degree, but it is 1962, Mississippi, and her mother will not be happy till Skeeter has a ring on her finger. Skeeter would normally find solace with her beloved maid Constantine, the woman who raised her, but Constantine has disappeared and no one will tell Skeeter where she has gone.
Aibileen is a black maid, a wise, regal woman raising her seventeenth white child. Something has shifted inside her after the loss of her own son, who died while his bosses looked the other way. She is devoted to the little girl she looks after, though she knows both their hearts may be broken.
Minny, Aibileen's best friend, is short, fat, and perhaps the sassiest woman in Mississippi. She can cook like nobody's business, but she can't mind her tongue, so she's lost yet another job. Minny finally finds a position working for someone too new to town to know her reputation. But her new boss has secrets of her own.
Seemingly as different from one another as can be, these women will nonetheless come together for a clandestine project that will put them all at risk. And why? Because they are suffocating within the lines that define their town and their times. And sometimes lines are made to be crossed.
This is another book that I've been meaning to read for quite a while now. I'm thinking that after I finish this book, I'll watch the movie- I've heard nothing but good things about both. 
GREEN
Since You've Been Gone by Morgan Matson (*re-read)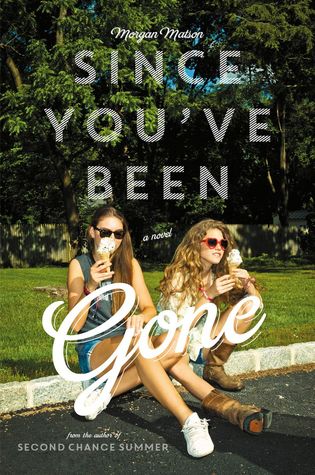 The Pre-Sloane Emily didn't go to parties, she barely talked to guys, she didn't do anything crazy. Enter Sloane, social tornado and the best kind of best friend—the one who yanks you out of your shell.
But right before what should have been an epic summer, Sloane just… disappears. No note. No calls. No texts. No Sloane. There's just a random to-do list. On it, thirteen Sloane-selected-definitely-bizarre-tasks that Emily would never try… unless they could lead back to her best friend.
Apple Picking at Night? Okay, easy enough.
Dance until Dawn? Sure. Why not?
Kiss a Stranger? Wait… what?
Getting through Sloane's list would mean a lot of firsts. But Emily has this whole unexpected summer ahead of her, and the help of Frank Porter (totally unexpected) to check things off. Who knows what she'll find?
Go Skinny Dipping? Um…
If you've seen my review for this book, you know that I've already read it and that I absolutely adore it. I've decided to re-read it because 
1) It's basically the ideal summer contemporary read
2) I couldn't find any other green book
BLUE 
All the Light We Cannot See by Anthony Doerr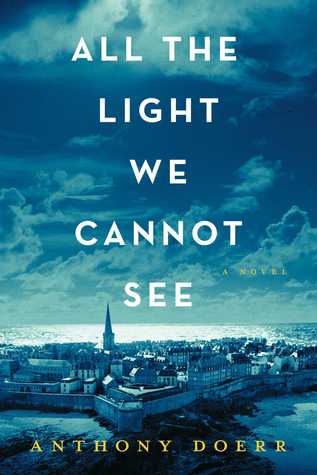 Marie-Laure lives with her father in Paris near the Museum of Natural History, where he works as the master of its thousands of locks. When she is six, Marie-Laure goes blind and her father builds a perfect miniature of their neighborhood so she can memorize it by touch and navigate her way home. When Marie-Laure is twelve, the Nazis occupy Paris, and father and daughter flee to the walled citadel of Saint-Malo, where Marie-Laure's reclusive great-uncle lives in a tall house by the sea. With them they carry what might be the museum's most valuable and dangerous jewel.
In a mining town in Germany, the orphan Werner grows up with his younger sister, enchanted by a crude radio they find. Werner becomes an expert at building and fixing these crucial new instruments, a talent that wins him a place at a brutal academy for Hitler Youth, then a special assignment to track the resistance. More and more aware of the human cost of his intelligence, Werner travels through the heart of the war and, finally, into Saint-Malo, where his story and Marie-Laure's converge.
This is another book that's on my June TBR, and it's also the book that I happen to be currently reading. 
PURPLE
Stardust by Neil Gaiman (*will be reading this in eBook format)
Catch a fallen star…
Tristan Thorn promised to bring back a fallen star. So he sets out on a journey to fulfill the request of his beloved, the hauntingly beautiful Victoria Forester – and stumbles into the enchanted realm that lies beyond the wall of his English country town.
I watched the movie a while ago and wasn't really a fan of it, but just recently found out that it was a book to movie adaptation, with the book being written by Neil Gaiman. Since I still have yet to read a book by Neil Gaiman, I thought that I might as well read one now.
This is a pretty ambitious TBR, especially considering that I'm going to be beginning SAT boot camp this week, but I'll do my best. Good luck to everyone else that'll be participating in this read-a-thon!